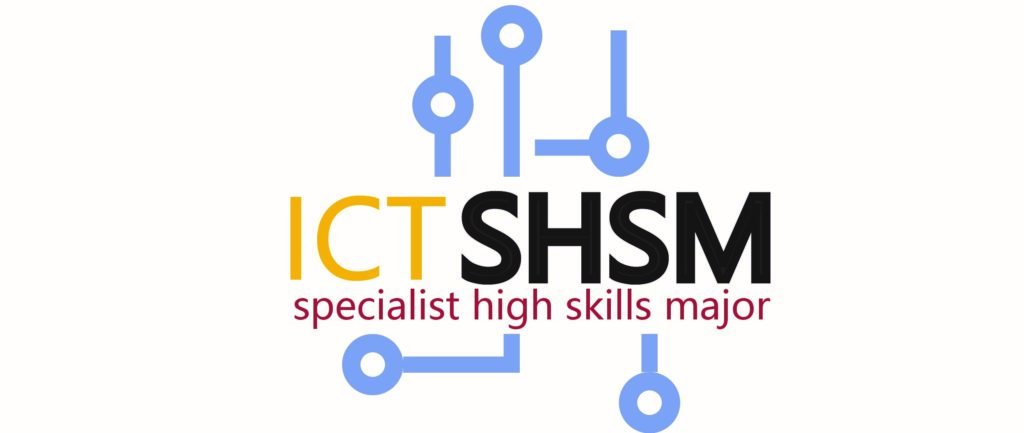 The Information and Communications Technology (ICT) SHSM program exposes students to technologies and skills in the areas of Communications and Media, Computer Engineering, and Computer Science.  Through experiential learning, and reach-ahead opportunities at post-secondary schools, students are positioned to make informed choices about their academic and career goals.  Students will benefit from experiences in design and computational thinking, and certifications across an assortment of industry related skills.
As students select their major courses they will select a focus on Communication Media, Computer Engineering, or Computer Science.
Certifications
CPR
First Aid
WHMIS
Portfolio Development
Art and Science of Lighting Design for Stage
Leadership Skills Development
Introduction to Design Thinking
Certifications offered may change from year to year
Reach Ahead Opportunities
Reach ahead opportunities may vary from year to year.  Students have the opportunity to interact with faculty or students during specialized tours of McMaster University, Sheridan College, Mohawk College and other institutions.
Experiential Learning
Halton Skills Competitions in digital photography and graphic design available
Opportunities for job shadowing
Business facility tours
Guest speakers and Q & A sessions with professionals
Community Partnerships and Support
ICT SHSM students have been fortunate enough to work with various organizations and individuals that have helped to broaden their perspective on the field of ICT.  We are thankful to those that have been involved in supporting our students in certifications, workshops, trips, and guest speaking events.  Thank you to those from the following organizations:
Sheridan College
Mohawk College
The University of Toronto
Western University Engineering Outreach
The Burlington Performing Arts Centre
The Mackenzie Innovation Institute
The Halton Industry Education Council (HIEC)
Amazon Fulfillment Center Tours
The Beanstalk Project
The Milton Education Village Innovation Centre

ICT Areas of Focus
ICT SHSM students select an area of focus when they enroll.  They can select Communication Technology and Media, Computer Science & Software, or Computer Engineering.  Your area of focus determines your course bundle.
Course Bundles
Over grade 11 and 12, every SHSM student will complete:
4 core SHSM credits (2 will be core-focus courses)
1 related art, business or science credit
1 Math
1 English
2 credit co-operative education
Your area of focus will determine which courses you will take as your core-focus credits as well as your related business, science, or art credit.
ICT Core Courses
Visual Art - Grade 11 (AVI3M)
Communication Technology - Grade 11 & 12 (TGJ3O, TGJ3M, TGJ4O, TGJ4M)
Computer Science - Grade 11 & 12 (ICS3U, ICS4U)
Computer Engineering - Grade 11 & 12 (TEJ3M, TEJ4M)
Construction - Grade 11 (TCJ3C)
Photography - Grade 11 (TGP3M)
Technological Design - Grade 11 & 12 (TDJ3M, TDJ4M)
Radio, Audio, and Sound Production - Grade 11 (TGR3M)
Yearbook & Print Production  - Grade 11 & 12 (TGG3M, TGG4M)

Communication Technology and Media
Students selecting this area of focus may be interested in pursuing careers in animation, digital art, graphic design, technological design, video production, and related fields.
Core Focus Courses
Students complete grade 11 and 12 Communications Technology (TGJ3M & TGJ4M) and two other ICT SHSM core courses.
Computer Science & Software
CS focused students may be interested in computer hardware and networking, data science, electronics, game design, robotics, and related computer fields.
Core Focus Courses
Students complete grade 11 and 12 Computer Science (ICS3U & ICS4U) and two other ICT SHSM core courses.
Computer Engineering
Designed for students interested in electronic or computer engineering.  This may also appeal to those interested in the fields of computer hardware, IoT devices, networking, and robotics.
Core Focus Courses
Students complete grade 11 and 12 Computer Engineering Technology (TEJ3M & TEJ4M) and two other ICT SHSM core courses.
Course Bundle Planner
This is a visual chart of the course options that can be used while earning your ICT SHSM seal.  Because the field of ICT is so broad, there is some flexibility in course bundles in order to accommodate your pathway after high school.  Speak to your guidance counselor to find out if the ICT SHSM program can support your goals working with the courses you plan on completing.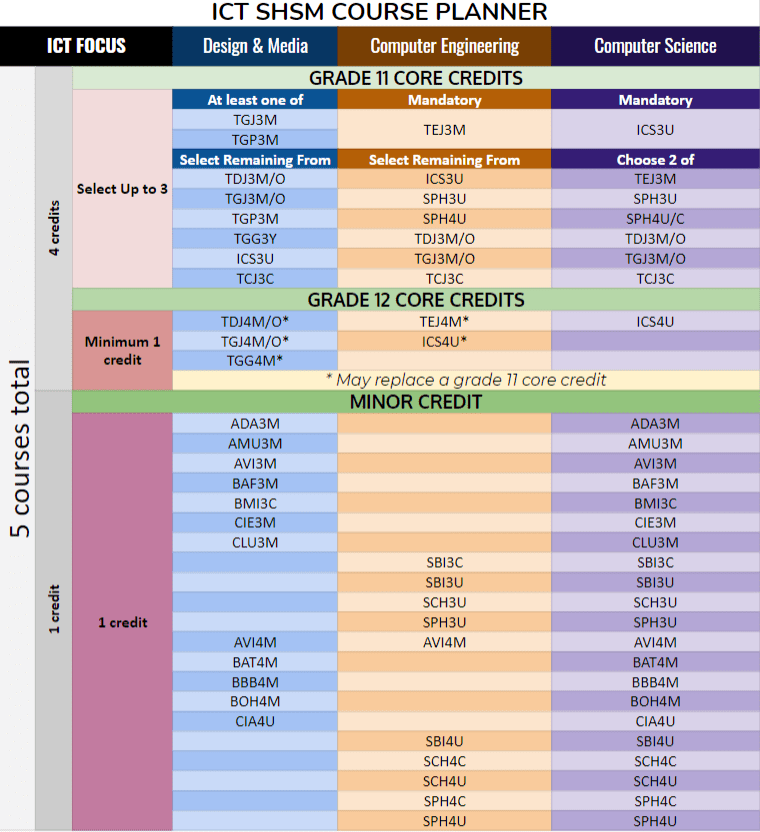 How to Apply
Whether you are ready to apply or would like to learn more, see our Applying to SHSM page.